About Kids Club
In 1999, a group of Willits parents and teachers gathered to meet and discuss the horrifying incident of youth violence that had taken place at Columbine High School in April of that year. At several community meetings, parents discussed how youth violence could be prevented by providing a higher level of guidance and expanded recreational opportunities to youth. In 2001, a shocking episode of youth violence here in our own community reinforced the conviction of a few people that more should be done to keep kids safe and out of trouble.
more/less
Monthly Sliding Fee Scale
Hardship rate- $20 monthly/ $10 short month
Free lunch rate- $30 monthly/ $15 short month
Reduced lunch rate- $55 monthly/ $30 short month
Part time rate (3 days per week)- $75/ $40 short month
Regular rate- $100 monthly/$50 short month
Discovery Park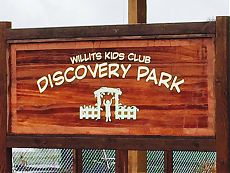 Willits Kids Club Discovery Park is a unique, natural, outdoor play space. It was designed to challenge children physically and creatively. The park was completed in the fall of 2014, and contains a climbing tower, long slides, a merry-go-round, a cabin fort, and many places to explore. The park includes a water catchment system, a greenhouse, garden beds, trees, gathering areas and arbors, and much, much more.
Discovery Park was designed with input from the community and especially local children. Many people were asked, "how did you like to play as a child?" Fort building, water play, climbing, hiding, and exploring were all common themes. Children who attend the Willits Kids Club after school program and summer day camp have the opportunity to play daily in Discovery Park where their daily lives are enhanced by active, outdoor play. The park is open to the public during non-school, non-program hours.
Discovery Park was made possible through funding from the State of California Parks and Recreation Prop.84 funds, Community Foundation of Mendocino County, Re-Leaf, and help from many local businesses and individuals.